慈悲之书,又名怜悯之书 Book of Mercy, 1984年出版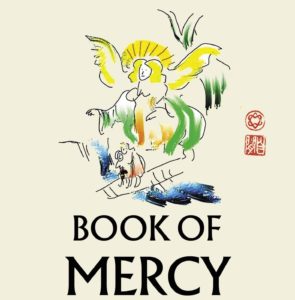 第一篇
我停下来聆听,可是他没出现。
失落感再次涌起。
深深的失落间,我又听见他。
我不再为此而停,不再为此而始。
允许自己被无知粉碎。
这是我的策略,虽然没有用。
许多年头,时间都花费在这种茫然模式中。
我开始讨还。
想用肉体换取他的爱。
我乞讨怜悯。
渐渐他让步了。
跌跌撞撞地挪向他的宝座。
天使们不情愿地听着对方歌唱。
皇庭建在金光对称的光束中,
无法标记如此美妙的过渡,
五十年前,再一次作为歌手,
我降生于低音唱诗班,
扬着高音 丁点那么高。
II
离开国王
我开始排练对世人的宣言:
改了又改的演讲词,
想象的掌声,羞辱的喧哗,报复的宣言。
野心的追逐
让我臃肿,挣扎,膨胀,
时机成熟时,我产下一头猿。
躲不过的一场小误会,
猿崽背叛了我。
瘸拐着,跌跌撞撞地,
我逃到国王整洁的院子。
"你的猿呢?"国王追问。
"带它过来。"
过程极缓。猿已变老。
囚笼里他装模作样,
模仿我们梦中手的姿势。
他使了个眼色,
冲着我冠冕堂皇的要事。
什么国王,他想知道。
什么院子?什么路?
III
听到了,
我的灵魂 躲在一片树叶后唱歌,
我掐掉叶子,
听见它在一块窗纱后唱。
我扯下窗纱,
听见它躲在墙后的歌声。
摧毁了墙,我听见它冲着我唱。
我重新搭起墙,修好窗帘,
可是不能让树叶重长回去。
叶子握在手心,我听见灵魂强烈地冲着我唱。
没有朋友一起摸索就是这样子的。
翻译 translated by: Keiko Wong
I stopped to listen, but he did not come. I began again with a sense of loss. As this sense deepened I heard him again. I stopped stopping and I stopped starting, and I allowed myself to be crushed by ignorance. This was a strategy, and didn't work at all. Much time, years were wasted in such a minor mode. I bargain now. I offer buttons for his love. I beg for mercy. Slowly he yields. Haltingly he moves toward his throne. Reluctantly the angels grant to one another permission to sing. In a transition so delicate it cannot be marked, the court is established on beams of golden symmetry, and once again I am a singer in the lower choirs, born fifty years ago to raise my voice this high, and no higher.
When I left the king I began to rehearse what I would say to the world: long rehearsals full of revisions, imaginary applause, humiliations, edicts of revenge. I grew swollen as I conspired with my ambition, I struggled, I expanded, and when the term was up, I gave birth to an ape. After some small inevitable misunderstanding, the ape turned on me. Limping, stumbling, I fled back to the swept courtyards of the king. 'Where is your ape?' the king demanded. 'Bring me your ape.' The work is slow. The ape is old. He clowns behind his bars, imitating our hands in the dream. He winks at my official sense of urgency. What king, he wants to know. What courtyard? What highway?
I heard my soul singing behind a leaf, plucked the leaf, but then I heard it singing behind a veil. I tore the veil, but then I heard it singing behind a wall. I broke the wall, and I heard my soul singing against me. I built up the wall, mended the curtain, but I could not put back the leaf. I held it in my hand and I heard my soul singing mightily against me. This is what it's like to study without a friend.